Staging Your Home-for-Sale Is Not a Luxury – It's a Necessity
Uncover the hidden value in your home through proper staging... According to Realtor.com, staged homes sell 88% faster and for 20% more than other homes. This is becoming increasingly important as the market shifts to a more balanced state and buyers have the opportunity to be more selective in their purchases.
When you list your home for sale with me, occupied staging is included.
I'm an Expert Level Staging Design Professional™, accredited by the Real Estate Staging Association®. That, along with my BA in Design and 20+ years in the field, come together for a powerful resource that gets homes sold!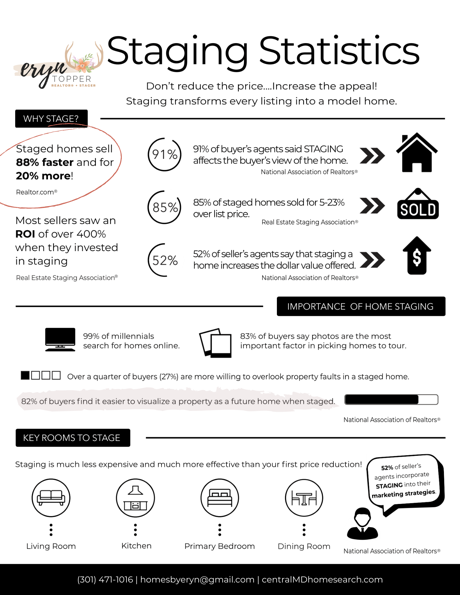 Two Types of Staging: Occupied vs. Vacant
Most people listing their homes for sale are still actively living in their property, and need occupied staging. Together we'll get your home ready for professional photography and your showings, utilizing your own furniture and editing your decor.
Investors and clients who have already moved out require vacant staging, where furnishings and decor are brought in to design a space that buyers can visualize as their future home.
Beyond Staging: Home Design Services
Whether you're moving to a new home, or an investor wanting your flip or AirBnb to impress buyers, you'll have a customized plan. I will work with your contractors to be sure you have the dream home you've been wanting.
Primary Home Interior Design - interior design plan to fit your space from paint, flooring, fixtures, hardware, appliances, to furniture and decor for clients who don't want to move or for buyers purchasing a new home in our service area
Color Consultations - custom plan for your home's palette (available locally or remotely)
Short-Term Rental Design - maximize your rental's earning potential (available locally or remotely)